March 2nd marks the 175th birthday of the Lone Star State. I know it's a little early, but to celebrate, here's one of my first ever blog posts, which is about Golden Era Gospel in Texas.

Originally posted on September 25, 2009
By: Joseph Middleton
It just wouldn't be right for me as a Texan to discuss Golden Era Gospel without focusing on the aspects of it as it relates to Texas! Modern gospel artists from Texas aren't hard to find. Dallas is known best for Kirk Franklin, and Austin for Chester D.T. Baldwin. Houston on the other hand seems to be where most of the Texas based, well known modern gospel artists are. Houston has Yolanda Adams, Endurance, Kathy Taylor, Soulfruit, Carolyn Traylor, Kim Burrell, Gary Mayes, James Fortune, Yunek, Shawn McLemore and Shei Atkins just to name a few. When Golden Era Gospel is discussed, the cities of Chicago, Detroit, and Philadelphia are heavily mentioned because they were the places where the major Golden Era artists were based. Chicago is regarded as the birthplace of gospel music and was home to Thomas Dorsey, Mahalia Jackson, Roberta Martin, Robert Anderson, The Highway QCs, Albertina Walker and James Cleveland among others. Detroit was home to The Meditation Singers, Rev. Charles Nicks, The Voices of Tabernacle, and Dr. Mattie Moss-Clark, while Philadelphia had The Ward Singers, The Angelic Gospel Singers, and The Dixie Hummingbirds. But what about that big state down south called Texas? What did it contribute to the Golden Era? Well, it contributed much!
For starters, one of the founding fathers of gospel blues was born in Texas. Sources show that Blind Willie Johnson was born in 1897 in Independence, an unincorporated town which is located about 85 miles northwest of Houston, or in 1902 in Marlin, which is close to Waco. Johnson lived in Hearne and Temple during his lifetime, and died in 1947 in Beaumont.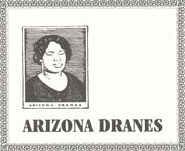 Arizona Dranes was born in 1891 (or 1905 depending on your source) in Sherman, which is north of Dallas. Dranes was a blind pianist and singer who made her first recordings in the late 1920s. Her style of piano playing and singing was said to have been influential to Roberta Martin and Clara Ward. While she moved to Chicago and joined the gospel scene there, Texas can still claim her as our own.
Around 1926-27, Roy Crain formed a quartet with some teenagers from his church in Trinity, about 90 miles north of Houston and sang in a jubilee style. Meanwhile, in September 1929, a quartet was formed at New Pleasant Green Baptist Church, located at 1608 Andrews Street in Houston by Walter Lee La Beaux. La Beaux named the group the New Pleasant Green Singers. Crain left the quartet in Trinity in the early 1930s and moved to Houston. Crain joined the New Pleasant Green Singers under the condition that the group's name be changed to The Soul Stirrers upon his arrival. Thus, The Soul Stirrers were born in the Fourth Ward of Houston, Texas, starting a legacy that continues some 80 years later. Quartets proved to be quite popular in those days, especially in the South. So it's no surprise that more quartets were founded in Texas as time progressed, such as the Pilgrim Travelers, who were founded in Houston in 1936 and were based in Houston until they moved to Los Angeles, California in 1942.
In 1951, a quartet based in Austin led by A.C. Littlefield named The Bells of Joy released a hit song titled "Let's Talk About Jesus". "Let's Talk About Jesus" reached into the top 10 listings on the Billboard R&B Charts and sold over 1 million copies. Country legend and fellow Texan Willie Nelson, called the Bells of Joy "the best Gospel group going."
During the 1940s, 50s and 60s, a tenor named
Wilmer "Little Axe" Broadnax
sang with a number of quartets including the Fairfield Four, the Five Blind Boys of Mississippi, The Golden Echoes, The Southern Gospel Singers, and The Spirit of Memphis. Broadnax is regarded as one of the best tenors to ever grace the Golden Era quartets, and was Houston born. Even more interesting is that upon Broadnax's death in 1994, it was revealed that Broadnax was anatomically female.
Texas was also the birthplace of Sister Jessie Mae Renfro (Sapp). Renfro was born in Waxahachie, which is located south of Dallas. Her most popular song was
"I Must Tell Jesus"
, which was recorded in November of 1952. Renfro recorded for Peacock Records in the 1950s and for the Delden label in the 1960s. More Texas born Golden Era Gospel singers include one singer well known for being associated with Chicago, Jessy Dixon. Dixon was born in San Antonio. Willie Neal Johnson, founder of the Gospel Keynotes was born in Tyler. The legendary soprano, Sara Jordan Powell of Houston got her start with The Sallie Martin Singers in 1961, and Houston was also the birthplace of the late Billy Preston, who played the organ and piano on the recordings of James Cleveland, Mahalia Jackson, Cassietta George, Bessie Griffin and Doris Akers in the 1960s.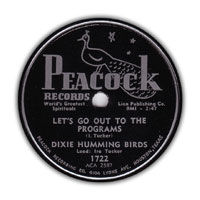 Peacock Records was Don Robey's legendary label and was based in Fifth Ward in Houston. Peacock was founded in 1949 by Robey and along with the Duke subsidiary label was home to many gospel artists in the 1950s through the 1970s including Inez Andrews, The Sensational Nightingales, The O'Neal Twins, The Highway QCs, The Five Blind Boys of Mississippi, The Mighty Clouds of Joy, Rev. Cleophus Robinson, and The Pilgrim Jubilees. While Duke was shut down in 1957 and Peacock was bought out by ABC Records in 1973, the Peacock/Duke Records building still stands today at 2809 Erastus Street, and now houses the Charity Baptist Church Educational Building.
Houston was also home to The Music Hall, which was built in 1937 and demolished in 1998. The Music Hall hosted many packed gospel programs which drew audience members from hundreds of miles around. It was the venue where The Roberta Martin Singers first introduced their then newest member, baritone Archie Dennis in 1958, and was the place where The Mighty Clouds of Joy recorded their "Live At the Music Hall" LP on the Peacock label in 1967.
Click here to listen to a song from that album.
So as you can see, Texas is rich with Golden Era Gospel history. Chicago may be the birthplace of the gospel sound, but the sound resonated from Illinois and deep into Texas, deep into the Piney Woods of East Texas, deep into the Bayou City of Houston, and even the Hill Country region.
Sources:
The Gospel Discography 1943-1970
Uncloudy Days, The Gospel Music Encyclopedia
We'll Understand It Better By and By
Texas Blues & Gospel
See these links for more information
Postcards From Texas: R&B Royalty: Houston's Own Don Robey (Peacock Records)
Peacock Records Discography
Soul Stirrers History
The Bells of Joy